Chickens are intelligent,
sensitive animals who deserve
humane treatment
Take action now to end the cruelty!
About 776 million chickens are raised for meat and eggs in Canada each year. Produced in factories like mere things, they live short, nightmarish lives. Do you know where your food comes from?
Two kinds of chickens raised on farms

Meat chickens
730,000,000 chickens in Canada are raised for meat each year a.k.a. "broiler chickens".
Raised in crowded, dark barns, meat chickens first see sunlight on the way to slaughter. Many die en route. Birds used for breeding live for about 1 year and endure stress, confinement, and deprivation. Their offspring is killed for meat at just over 1 month of age.
See how meat chickens live
Here is how chickens should live. This Canadian farm uses "loose housing". Birds have sandboxes, a variety of perches, and toys to play with.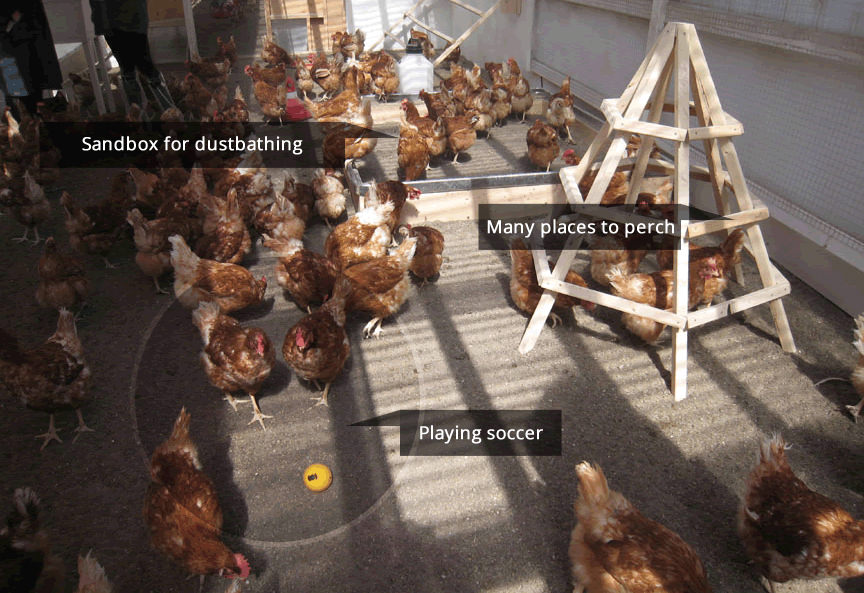 What is pecking order and why is it important?
Chickens maintain a complex social hierarchy by pecking each other. A well-defined pecking order is necessary for harmony in a flock and has wide implications. Example: hens learn more from higher status individuals, the same way we tend to value expert opinion. Learn more about important chicken behaviors.
What about colony or furnished cages? Birds don't belong in cages. Research shows that cage-free hens spend more time foraging and walk more than hens in furnished cages (Rodenberg et al., 2008). Download The Case Against Cages (PDF) from WAP for more info.
The Five Freedoms
The Five Freedoms is a core concept in animal welfare that originated in a UK government report in 1965 and was then refined by the Farm Animal Welfare Council. It states that an animal's primary welfare needs can be met by safeguarding the following five freedoms:
Freedom from Hunger and Thirst by ready access to fresh water and a diet to maintain full health and vigour.
Freedom from Discomfort by providing an appropriate environment, including shelter and a comfortable resting area.
Freedom from Pain, Injury or Disease by prevention or rapid diagnosis and treatment.
Freedom to Express Normal Behaviour by providing sufficient space, proper facilities and company of the animal's own kind.
Freedom from Fear and Distress by ensuring conditions and treatment which avoid mental suffering.
In both magnitude and severity, [chicken production is] the single most severe example of man's inhumanity to another sentient animal.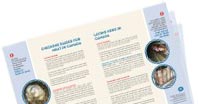 Download a printable PDF brochure about meat and laying chickens.
More pages